When we lose a loved one, grief can turn our routine inside out. Sadness, confusion, shock and loneliness can occur. It may be trouble sleeping, low energy levels, or difficulty concentrating.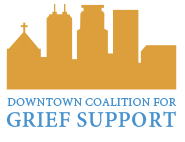 The Downtown Coalition for Grief Support offers an educational and emotional support group to those who have lost a loved one. Excellent speakers, trained facilitators and a group of others who have experienced loss make these sessions a place of healing. Gatherings occur on Saturday mornings. Scroll down to view the schedule of speakers.
While everyone responds to grief in different ways, at different paces, one thing remains constant: the ongoing support of family, friends and those who understand loss helps us heal.
The Downtown Coalition for Grief Support is a unique resource to help adults understand and express grief, and most of all, begin moving forward. We are an all-volunteer, non-denominational organization that believes in the power of people to turn pain into promise.
Because each of our members has come through an individual experience of loss, we offer encouragement, education and comfort on both professional and personal terms.
Speaker Fall 2016
Winter sessions will be held at the Basilica of St. Mary in the Cowly Center, 88 North 17th Street, Minneapolis. Free parking on N 16th Street or Basilica School parking lot. Enter Cowly Center on N 16th Street.
9:30 am—Refreshments
10:00—Speaker
10:30-11:30—Small Group Discussion
Jan 7, 2017
Brenda Demotte "Uncommon Sense About Grief"
Jan 14, 2017
Renee Garpestad "The Courage to Ask: Embracing Help on the Path to Healing"
Jan 21, 2017
Joan Olson Personal Story-Mother loss
Jan 28, 2017
David Engelstad "Grief and Self-Awareness"
Feb 4, 2017
Brenda Demotte "Grief and Resilience"
Feb 11, 2017
Paul and Lind Schelin Personal Story—Child Loss
Feb 18, 2017
Rox Sadovsky "Writing Together through Grief"
Feb 25, 2017
Diana Diers "Grief—Similarities and Differences"
Mar 4, 2017
Beryl Schewe "Getting Unstuck—Part 1"
Mar 11, 2017
Beryl Schewe "Getting Unstuck— Part 2"
Mar 18, 2017
Bob Albers "Grief and Shame"
Mar 25, 2017
Ted Bowman "Shattered Dreams and Other Metaphor for Losses"
Apr 1, 2017
Ted Bowman "Grieving is Good for You; No Fooling"
Apr 8, 2017
Bob Bartlett "Grief and Intimacy"
Apr 15, 2017
Lynn Baskfield "Grief—Walking Between Loss and Restoration"
Apr 22, 2017
Jean Greenwood "Grief and the Quest for Meaning"
Apr 29, 2017
Bob Albers "The Spiritual Dimensions of Grief"
May 6, 2017
Open Session