Episcopal Creative Arts Day Camp (ECAD) is a full week of camp activities that includes music, visual arts, tinkering, storytelling, movement, and outdoor games. At ECAD, we Explore, Create, Adventure and Discover throughout the week. This year our theme that guides each day is God Along the Way: Finding the Holy in Every Day Moments.
Read about this year's journey and view photos and slideshow.
Monday
Greetings on this first day of ECAD, 2016, and welcome to this first daily connection between you and the children.
Because this year's focus is "God Along the Way", each morning you will receive a short description of the day's events and focus including a suggestion of how to pray for ECAD as you go along your way! Each day a different word will guide the campers in experiencing God: welcoming, blessing, healing and thanking. A body prayer and the telling of a biblical story will begin each morning. Today is the story of Abraham and Sarah welcoming the three strangers by preparing a feast for them. Because bread is one of the item at their meal, the children will make and bake bread as a way to connect with the story. The results of their creative work will be frozen and given to guests who are welcomed on Thursday at Saint Mark's "Warm Space"for a soup lunch.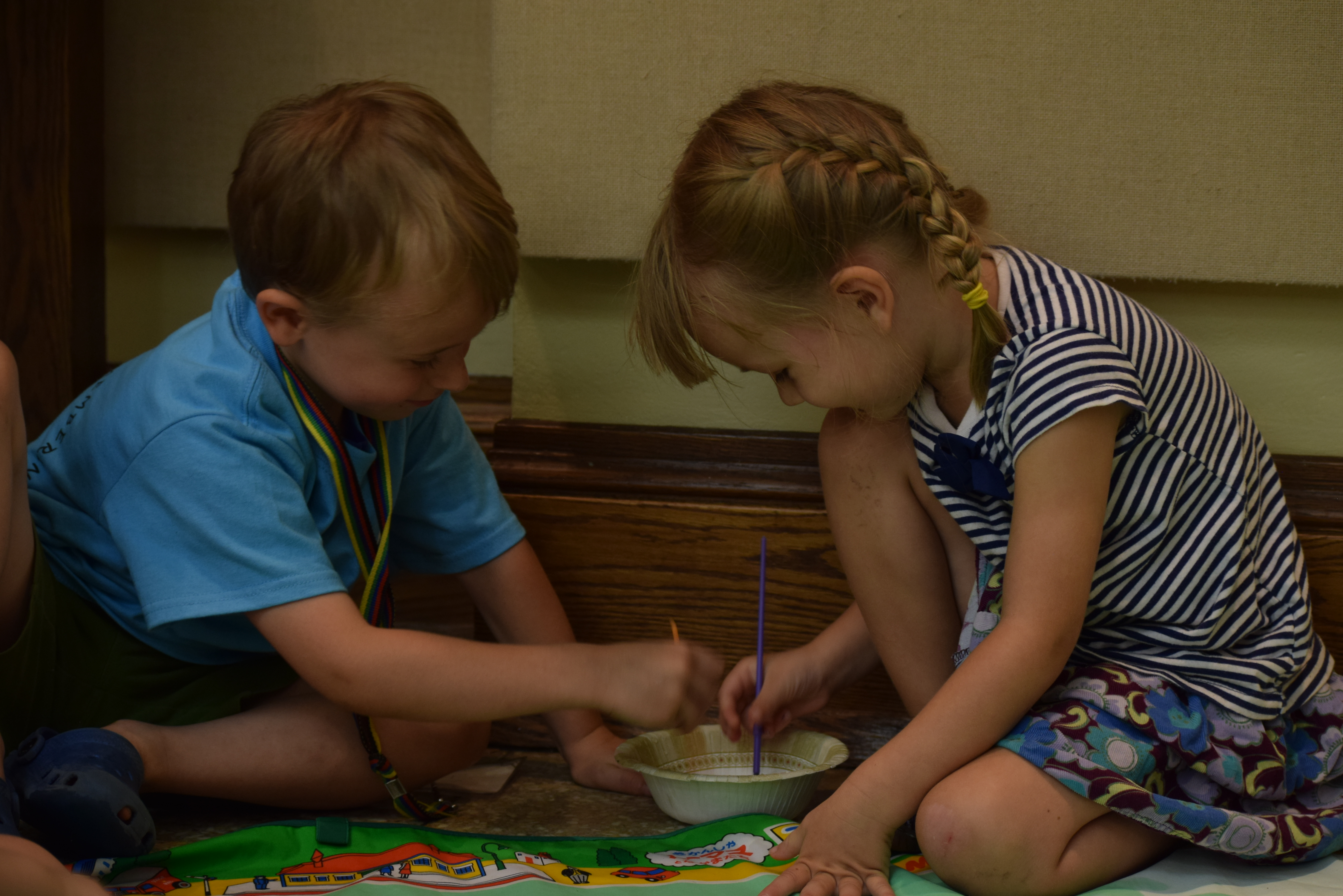 Prayer
God, open me and my family to become more welcoming of friends and strangers in a world in need of community and connections. May we increase our respect for others, especially those who are different from us. Amen.
Tuesday
Today opens with the body prayer and story of Abraham and Sarah, but this time the children are invited to engage another word: blessing. After Abraham and Sarah extend hospitality to the strangers, they learn they will receive the blessing of a child even in their old age. During the day, the children will be encouraged through art responses to express the many ways they receive blessings - some perhaps very surprising.
Prayer
God, deepen my trust of the goodness of life within and around me so I may instill the same trust in my children. May our hearts be awakened to the abundance of unearned gifts continually given us by God and others. Amen.
Mid-week, we are already seeing the creative process in wonderful and surprising moments.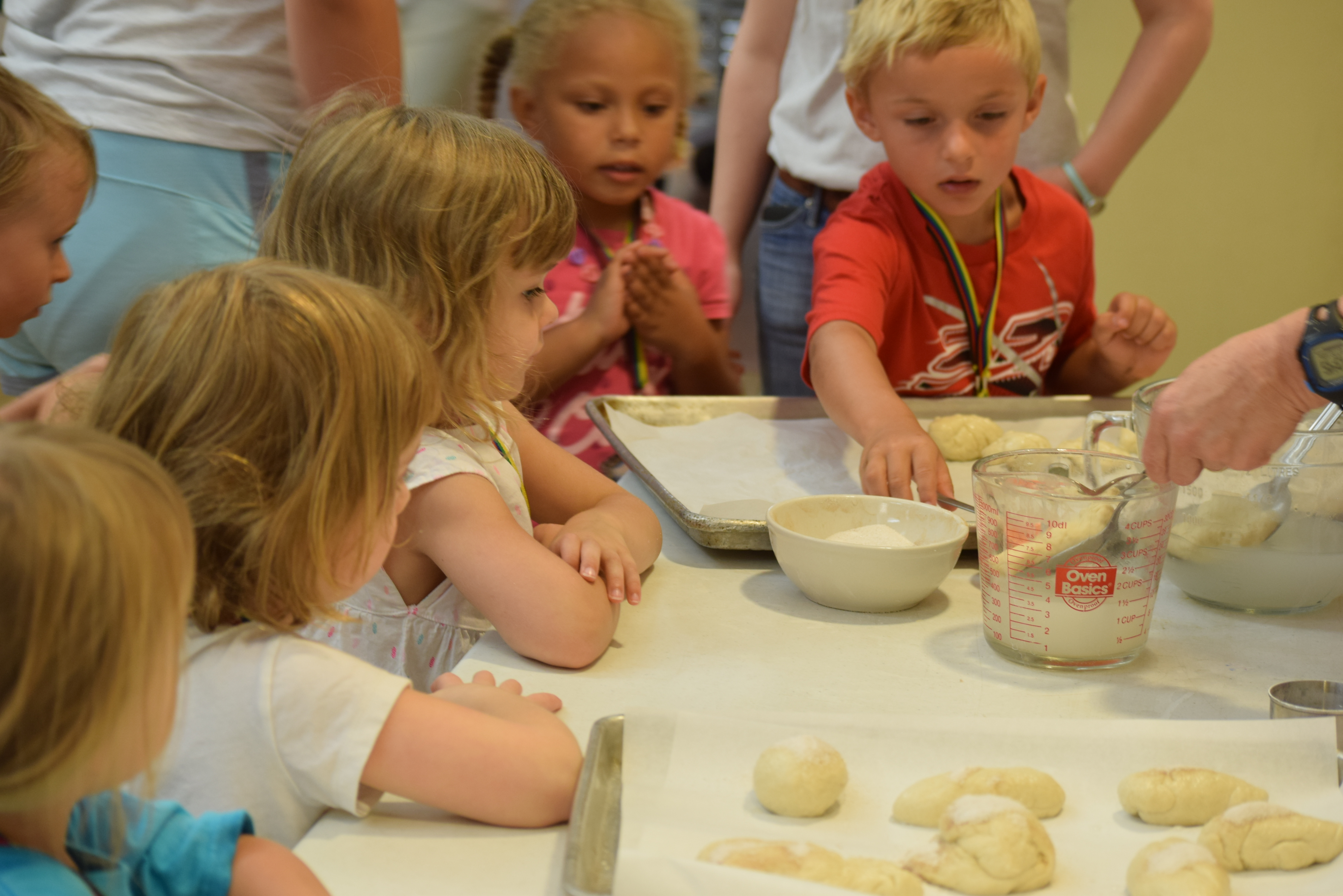 Wednesday
At the end of the body prayer, the children will again move into a child pose and focus on the particular word for today: healing. They will be invited to "speak" that word with their body, and then listen to a story of how Jesus healed the man born blind. Jesus' touching of the man's unseeing eyes with spit and mud presents a dramatic scene which the children will delight in reacting as part of their day. Of course, there are always outdoor games to engage their active large muscles!
Prayer
God, touch the blindness of each person in our world and in me so all may see light instead of darkness, love instead of hate, union instead of separation. May I guide my children to be healers and be a healer for them. Amen.
Thursday
It's our field trip day and we're heading out on school buses for a visit to Lake Harriet. Please wear your ECAD t-shirts, sunscreen, and tennis shoes. There will be a ride on the vintage trolley, a walk on the nature trail, lunch by the band shell and an ice cream treat before returning to St. Mark's. This special adventure is usually a highlight for the campers as it broadens their experiences and interactions with one another.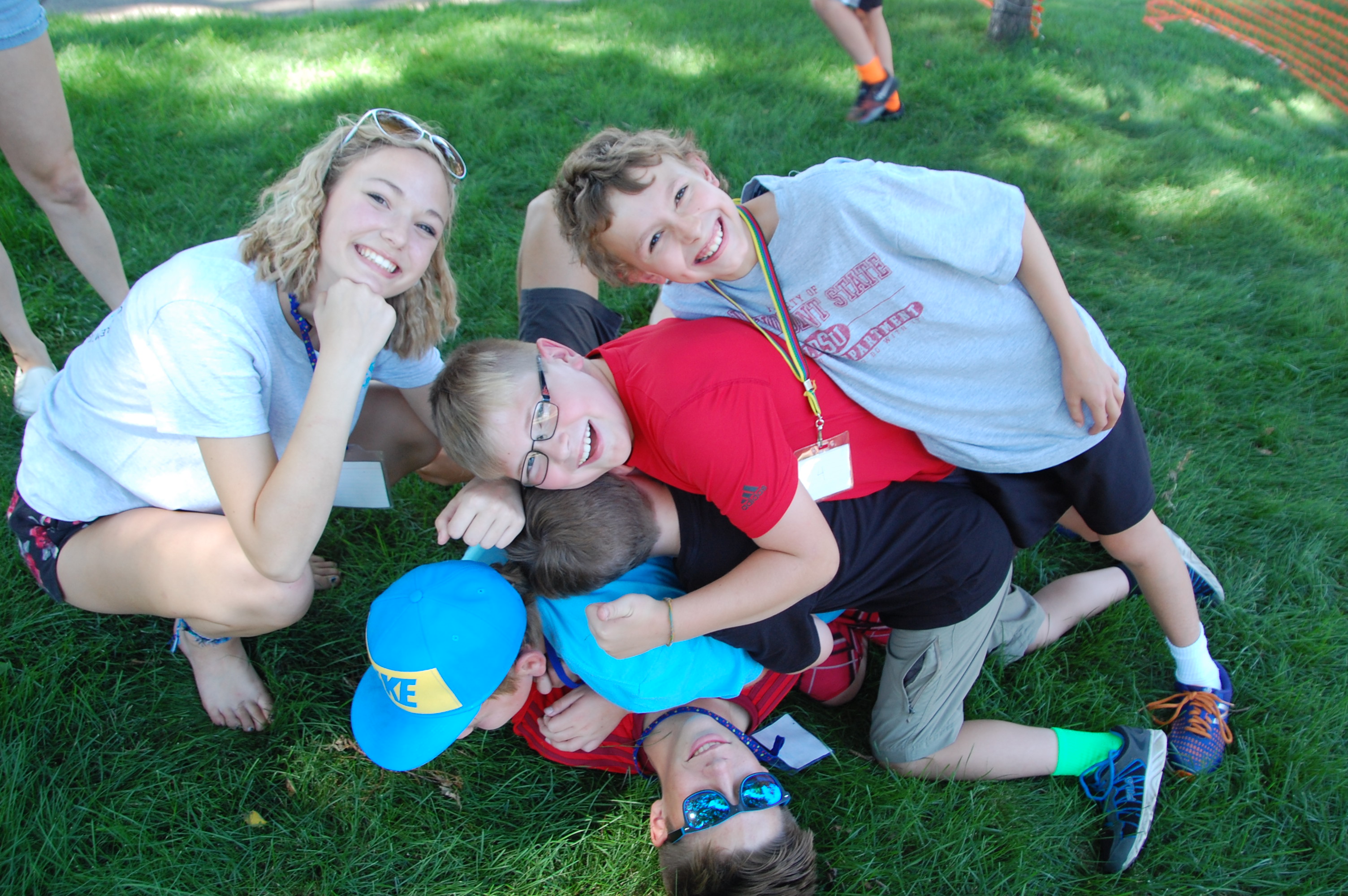 Prayer
God, keep all those safe who travel this day, especially in places of unrest and violence. May the field trip be a time of joy, blessing and renewal. Amen.
Friday
This year at ECAD our theme was "God along the way". This camp experience was positive for the campers and the youth leaders. We practiced music, drama, and art throughout the week. The kids had time to interact with the other campers and create relationships. Our field trip on Thursday was to Lake Harriet and the Historically Streetcar, which both the campers and youth leaders had an exciting time at. The kids had opinions about the week which include: It's inviting, fun, and an exciting place to learn. One kid said "It helps cultivate creativity". "I've never been here, but I am excited to be here". Yesterday we went around the circle and one child said "I'm blessed to be here and spending time with you."
Some of the youth leaders were also interviewed and here is what they had to say about ECAD. They were asked this question "What did you like about the week?" And they responded with:
I thought it was really good, I liked the kids, and I had a different camp experience.
1st Year as a Youth Leader
I liked the outdoor games, it was easy, I liked the arts and crafts, and it was really entertaining.
3rd Year as a Youth Leader
I liked watching the kids change over the week, and having the kids make new friends.
5th Year as a Youth Leader
I enjoyed getting to know the kids, it was relaxing in a way, and I really enjoyed the field trip.
6th Year as a Youth Leader
Daily prayers were written for ECAD by Rev. Anne Miner-Pearson, who with Andrew Birling, our camp music director, is guiding our youth leaders in designing our Friday worship.
Slideshow by Claire H.