There is a Chinese curse which says 'May he live in interesting times.' Like it or not, we live in interesting times. They are times of danger and uncertainty; but they are also the most creative of any time in the history of mankind.
The Reverend Lisa Kraske Cressman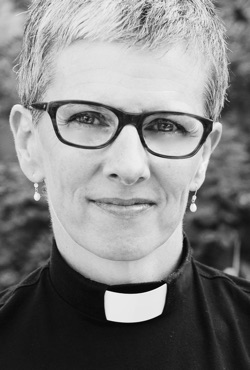 We are proud to announce the Rev'd Lisa Kraske Cressman, D.Min, Founder and Steward of Backstory Preaching® (backstorypreaching.com) will be preaching at Saint Mark's 8am & 10:30am Worship, Sunday, November 12th. Rev'd Lisa will also be our presenter for our second annual teaching event Saturday, Nov 11th.
The Reverend Lisa Kraske Cressman, D. Min., is the Founder and Steward of Backstory Preaching® (www.backstorypreaching.com). An Episcopal priest known for her preaching since she was ordained in 1992, she is also a preaching instructor, spiritual director, retreat leader, and the author of Backstory Preaching: Integrating Life, Spirituality and Craft (Collegeville, Liturgical Press: 2018). Though canonically resident in Minnesota, she currently lives in Houston, Texas.
When not considering all things preaching, she is a musician, mixed media artist, the human half of a therapy dog team, wife of thirty years, and the luckiest mom on the planet to her two teen-aged sons.
Robert F. Kennedy said this in 1966. Our times are no less interesting than his, nor is our need for creative responses any less. Expressions of overt racism and prejudice are increasing. Common civility is decreasing. Political positions are championed as if they determine eternal salvation or damnation. Loyalty is tested to party, country, family, church, and God, and many are certain they are qualified to judge. Not since the Civil Rights era have preachers been so called upon to discern and proclaim what it means to follow Jesus Christ and love one's neighbor as oneself.
With so many competing interests, so many people unwilling to dialogue, and so much fear driving people apart, what will help preachers proclaim the dignity of every human being in a way it can be heard?
Where do preachers start? With our call to preach.
Who are we as preachers? What is our authority to preach and how is it to be used in service of the Gospel? How do we better understand our listeners? How do we access the Spirit's courage to preach the Gospel no matter the consequences to us? How do preachers lead when the present is so troubled, and the future is an especially large question mark?
By the end of this interactive day, the preacher will:
Renew the importance of and plan for personal prayer and Scripture study;
Understand the preacher's tools of leadership and authority;
Be able to use those tools in service of the Gospel;
Empathize with and name competing loyalties of preachers and listeners, and appreciate God's mercy that runs throughout;
Be able to apply several practical approaches to sermons that may challenge listeners;
And, have resources for further study.
At the end of the day the preacher will have a deeper understanding of the challenges and tools to proclaim the Gospel creatively, lovingly, and clearly, so that especially now, all people will know we are Christians because we love one another…and love our neighbors like ourselves. 
Made possible by a generous gift to Saint Mark's Cathedral, given in honor of Saint Mark's Fourth Dean, The Very Rev. Douglas Fontaine, the Fontaine Sermon Event is intended to foster the art of preaching at the Cathedral and throughout the ECMN. The goal is a reconnected, refreshed, and recommitted cohort of preaching practitioners dedicated to the art of bringing the Word to life
Sunday, November 12
The Reverend Lisa Kraske Cressman will preach at the 8 and 10:30 am services at Saint Mark's on Sunday, November 12