When we lose a loved one, grief can turn our routine inside out. Sadness, confusion, shock and loneliness can occur. It may be trouble sleeping, low energy levels, or difficulty concentrating.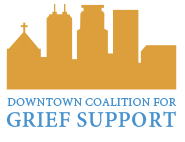 The Downtown Coalition for Grief Support offers an educational and emotional support group to those who have lost a loved one. Excellent speakers, trained facilitators and a group of others who have experienced loss make these sessions a place of healing. Gatherings occur on Saturday mornings. Scroll down to view the schedule of speakers.
While everyone responds to grief in different ways, at different paces, one thing remains constant: the ongoing support of family, friends and those who understand loss helps us heal.
The Downtown Coalition for Grief Support is a unique resource to help adults understand and express grief, and most of all, begin moving forward. We are an all-volunteer, non-denominational organization that believes in the power of people to turn pain into promise.
Because each of our members has come through an individual experience of loss, we offer encouragement, education and comfort on both professional and personal terms.
Speaker Spring/Summer 2017
Winter sessions (through May 6) will be held at the Basilica of St. Mary in the Cowly Center, 88 North 17th Street, Minneapolis. Free parking on N 16th Street or Basilica School parking lot. Enter Cowly Center on N 16th Street.
Summer (from May 13) First Christian Church
SpringHouse Ministry Center
610 W. 28th Street
Parking available on W. 28th Street, Lyndale Ave. or Garfield Ave.
9:30 am—Refreshments
10:00—Speaker
10:30-11:30—Small Group Discussion
Apr 29, 2017
Bob Albers "The Spiritual Dimensions of Grief"
May 6, 2017
Open Session
May 13, 2017
Lowell Johnson "Grief and Forgiveness"
May 20, 2017
Jenny Simmonds "Understanding How Children Grieve"
May 27, 2017
Marjorie Watson Grief and Poetry
June 3, 2017
Susan Thornton Grief and Resilience
June 10, 2017
Dawn Miller "Music Therapy and Grief"
June 17, 2017
Lois Untinen Personal Story--Spouse loss
June 24, 2017
Lorry Lundborg Personal Story--Spouse Loss
July 1, 2017
Wendy Brown Baez "Cultivating Resiliency"
July 8, 2017
Jim Vogt "Grief-The Fabric of Our Lives"
July 15, 2017
Dan Johnson "Telling Our Stories"
July 22, 2017
Dick Anderson "Depression and Anxiety"
July 29, 2017
Ted Bowman "What Do We Know About Grief?"
August 5, 2017
Ted Bowman "Storying and Re-storying After Losses"
August 12, 2017
Dennis Herschbach Personal Story
August 19, 2017
Lizz Levang "Different Styles of Grieving"
August 26, 2017
Open Session